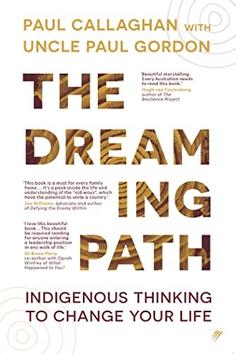 The Dreaming Path
Tired of going around in circles?
The Dreaming Path has always been there, but in the modern-day world, it can be hard to find. There are so many demands on us - family, health, bills, a mortgage, a career - that it can be hard to remember what's most important: you.
It's time to reconnect with your story.
Through conversations, exercises, Dreamtime stories and key messages, Paul Callaghan and Uncle Paul Gordon will sit you around the fire and share knowledge that reveals the power of Aboriginal spirituality as a profound source of contentment and wellbeing for anyone willing to listen.
This ancient wisdom is just as relevant today as it ever was.
Themed chapters that bring together Aboriginal and non-Aboriginal worldviews invite you to reflect on:
Caring for our place and the importance of story
Relationships, sharing and unity
Love, gratitude and humility
Learning and living your truth
Inspiration and resilience
Being present and healing from the past
Contentment
Leading
The tools provided in this book will give you tips, practices, inspiration and motivation that can enable you to achieve a state of mind, body and spirit wellness you didn't think possible.
Paul Callaghan is a First Nations custodian in the land now called Australia. Paul belongs to the land of the Worimi people which is located on the east coast of Australia about 2 hours north of Sydney, New South Wales. He is an Aboriginal story teller and dancer. Paul has held a number of senior executive positions in his career and has qualifications in a diverse range of disciplines including surveying, drafting, accounting, economics, training, executive leadership, emotional intelligence, company boards, and executive/organisational coaching.
Paul's passion however has always been around healing individuals, communities and the Earth our Mother. His corporate roles have always incorporated this passion.
Paul has been 'going bush' for many, many years and learning traditional 'Lore' from his Elders much of which he is willing to share with those who respect it.
Paul also ran a very successful spiritual/energy healing practice for many years with a wide variety of clients and illnesses.
The underpinning foundation of the book is his journey through depression and the role Aboriginal culture, spirituality and philosophy had in not only enabling him to recover, but also empowering him to live life by his truth rather than everybody else's expectations. The book has a number of exercises and models based on his experience aimed at assisting people from all walks of life to build the courage and skills to live a life of purpose, choice and wellbeing. You will find it is a combination of styles including textbook, self help, Aboriginal history, Aboriginal philosophy, Aboriginal spirituality and an autobiography of his journey through depression.
The ancient wisdom in this book will give you tips, practices, inspiration and motivation that can enable you to achieve a state of mind, body and spirit wellness you didn't think possible.
---
Reviews
"Beautiful storytelling. Every Australian needs to read this book".-- Hugh van Cuylenburg, author of The Resilience Project
"I love this beautiful book. The wisdom of Aboriginal ways of thinking and acting are outlined in context of our modern world leadership challenges. The insights of Paul Callaghan - an Aboriginal man with leadership in Western organizations - are like leaves of practical input floating down a quiet stream of wisdom. It's not a harsh, angry rejection of Western views and practices; it's a gentle walk to a better view. The insights about leadership are powerful and timely. This should be required reading for anyone entering a leadership position in any walk of life".
-- Dr. Bruce Perry, co-author with Oprah Winfrey of the #1 New York Times bestselling book What Happened to You?
"A must-read guide for thriving in modern life that draws on more than 60,000 years of culture and wisdom. It's humbling to be trusted with some of the sacred knowledge of First Nations peoples on this continent.'" -- Osher Gunsberg
"In a period when so many questions have been asked - about family, belonging, sustainability and purpose - this book reminds us that the answers are and have always been right in front of us. Aboriginal spirituality, culture and traditions have been practised and handed down for thousands upon thousands of years, since the beginning of time. They have been designed to help us heal and survive. There are important lessons here for all of us to learn."
-- Brooke Boney
---
About the Author
Paul Callaghan is an Aboriginal man belonging to the land of the Worimi people, located one hour north of Newcastle, New South Wales. He has held a number of senior executive positions in his career, and has experience in a number of industries including Aboriginal community services, Aboriginal culture and heritage, Aboriginal home care, Aboriginal social housing, custodial services, disability services, education, farming, government, employment, mining, primary health care, social housing, the university sector, vocational education and youth services.
These days Paul runs his own cultural consultancy business, aiming to share his learning about connection to Aboriginal culture, philosophy and spirituality with all who are willing to listen. He is also a motivational speaker, PhD candidate, storyteller, dancer and author. In 2014 he published a book entitled Iridescence: Finding Your Colours and Living Your Story. The Dreaming Path is his first book published for the mainstream trade.